Good questions! We have answers
Ceres Chill is so simple, it can seem complicated
This compact Chiller uses a minimum of parts to accomplish everything! Rather than perusing the FAQ below, you may simply want to check out our User Guide to better understand all the ways you can use it and how easy it is to clean.
Does Ceres Chill work with all major breast pumps?
Yes! Ceres Chill is compatible with these major pumps without an adapter: Medela, Evenflo, Ameda, Ardo, Gland, Kidstime, Nibble, Babysteps, Bellema.
With

our adapter available for purchase

, Ceres Chill works with Spectra, Phillips Avent, Bella Baby, Baby Buddha, Cimilre, Motif by Aeroflow



All Medela pumps work with all Ceres Chill parts without adapters...except Medela just changed their new Freestyle Flex so that it only fits the Ceres Chill inner chamber and Medela bottles. You can still use our upper cup as a baby bottle but it will not fit the Flex flange. This means you can purchase an extra inner chamber or use your own Medela bottles to double pump. We have heard of some moms having success with these adapters as well.
If you have a Lasinoh or Hygeia, please reach out to us so we can make sure we get you a special adapter to accommodate these pumps
Pump into hands-free containers and safely store in the Chiller: Freemie, Elvie, Willow
If you don't see your pump listed here, please reach out to us so that we can confirm whether you need an adapter and to make sure we get you what you need

Why use Ceres Chill instead of a cooler or a fridge?
No more worry and so much more freedom! Pumps are improving every day so why should breastmilk storage be stuck in the stone age? Ceres Chill finally provides you with a safe, longterm solution that you easily keep on your nightstand, at your desk, in the diaper bag or tucked in your carry-on luggage. Nothing else in the world allows moms to easily and safely store up to 24 ounces of breastmilk or forumla for over 20 hours. If you love hard evidence of awesomeness like science, charts and consumer safety reports, we have all of that for you here.
Coolers only last for 6-8 hours (eek - can't forget the milk at work, in the car or in your bag!). Coolers require advanced freezing (don't ever forget to freeze the freeze pack overnight!). They are also jammed full of lots of plastic (ick and ugh) and typically hold only 20 ounces. And there are just so many parts to hand-wash and sanitize! How can we possibly do everything we need to do in so little time and with so much baggage?!
YOUR CHILLER IS ALSO A BOTTLE WARMER!
One Chiller to chill your milk and one to warm it makes for a happy baby — road trips, long walks and life just became waaay easier! One Chiller filled with hot water can warm up to three bottles over 8 hours. Need more warm bottles? Just add hot water to the outer chamber and go!
PEACE OF MIND
Ceres Chill allows you to safely chill and store up 24 ounces of breastmilk by your bedside for midnight pumps, at your desk, in your car, or in your luggage for over 20 hours. Need more time? Just add ice. Plus traveling is such a breeze without ice packs or hassles with airport security. Less plastic is such a relief!
COST SAVINGS
This super high quality bottle has been specifically and rigorously tested to ensure it is safe for infants and can keep your breastmilk safe without the need to purchase more plastic and disposable storage. For some moms facing incredibly challenges of NICU babies or super long shifts, their only option is to have a nearby fridge or find a solution like Ceres Chill to provide 20 hours of safe storage for up to 24 ounces of milk or formula.
It might surprise you but Ceres Chill's price is competitive with the many traditional options out there...but Ceres Chill is even better because Ceres Chill is sustainable and higher quality. Coolers range in cost from $18-$250; a Medela Storage system of plastic baggies and bottles is about $34 so with the coolers you are up to $52; Mini fridges for offices or bedsides are typically $90 - $250. Ceres Chill replaces all of the hassle and costs for much less in the long run. Plus, it is truly hard to calculate the value of all of the breastmilk that gets dumped when coolers fail or we forget to freeze the chemical packs or we have to take long work trips with complications involving TSA and coolers.

ENJOY IT FOREVER
Finally a baby product that is also for moms and dads! These chillers are not disposable like all the coolers and plastic that ends up in the trash. Ceres Chill parents LOVE their chillers and use them long after breastfeeding days are a distant memory. The happy uses are endless: Hot coffee all day. Cold water at the gym or on a long hike. And absolutely anything can be chilled without dilution, so you can do something fun like chill an entire bottle of chardonnay in 20 minutes or sip the perfect iced coffee on at the park. One Ceres Chill Army daddy uses it to keep his hollandaise sauce warm while he puts the finishing touches on brunch. Ceres Chill is the best water bottle and thermos you have ever treated yourself to.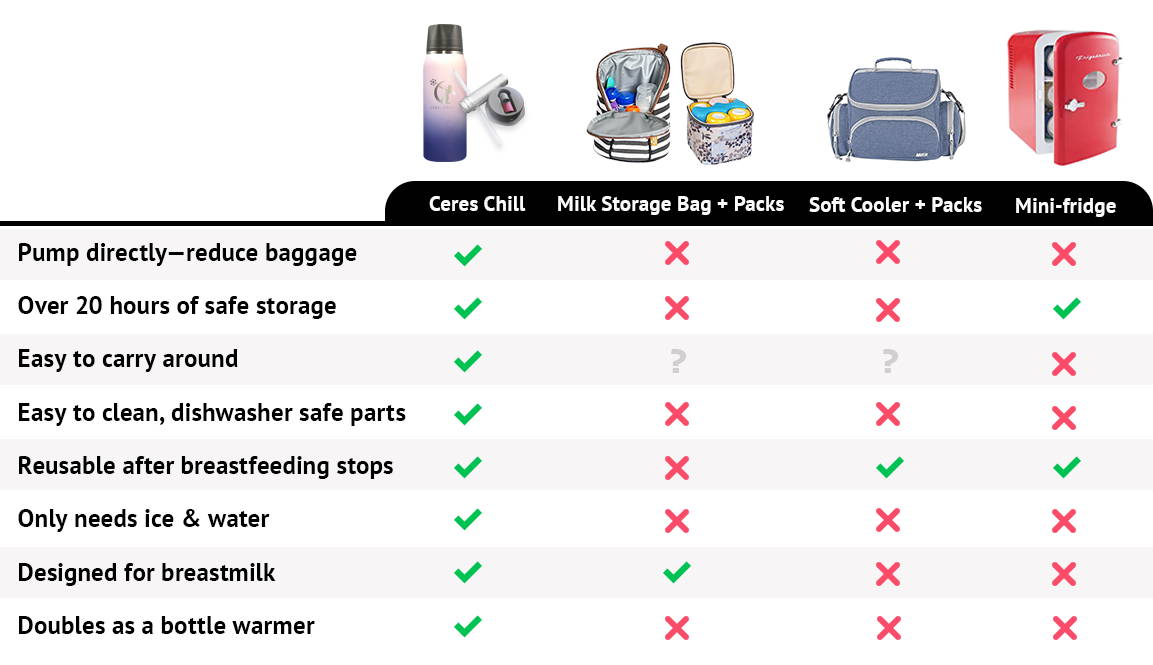 How is Ceres Chill different from a regular thermos?
Ceres Chill is tested and certified for use with infants. If you love hard evidence of awesomeness like science, charts and consumer safety reports, we have all of that for you here.
Because it was designed by a pumping, working mom for pumping, amazing, hardworking moms, it is versatile and reliable. This means it has all the compatible threading to connect your pump directly to the Chiller so you can pump into it and eliminate added risks of spills or contamination. You get convenience and peace of mind knowing you are not needlessly risking your baby's milk or formula.
Also, thermoses can't keep freshly expressed breastmilk at a safe temperature. A regular thermos can keep milk cold or keep coffee hot but Ceres Chill safely and reliably changes the temperature so you can pump directly into the Chiller, bring the temperature down to a safe level and keep it there for over 20 hours!
The chiller dimensions are similar to that of a standard thermos (11 x 4 inches), so it fits perfectly in most medium sized bags. It's easy to carry and definitely more space saving than a full cooler!
The inner chamber by itself is about the same weight and circumference of a 5 ounce Medea bottle, with a height of 7 inches and a diameter of 2 inches.
Does the Chiller need to be sterilized?
All Ceres Chill parts do fit in sterilizers, but the high heat and intensity can be hard on the parts and affect the finish on the outer chamber. We recommend hand washing the outer chamber and tossing the inner chamber and plastic parts in the top rack of the dishwasher!
As an extra cleaning measure, you can place the inner chamber in boiling water and pour boiling water inside the outer chamber, but as with all breastfeeding gear, prolonged exposure to high heat can damage the parts. We do not recommend actively boiling the parts for sustained periods. It's best to avoid boiling the plastic parts or the outside of the outer chamber.
While thoroughly cleaning all of your breastfeeding gear is essential, completely sterilizing it is not necessary for healthy, full-term babies. Here's the FDA's guidance on sterilizing:
"All breast pump parts that come in contact with breast milk, such as bottles, valves and breast shields, should be cleaned after each use. It is not possible to completely sterilize breast pump parts at home, even if you boil them. However, sterilization is not necessary to keep these parts safe and sanitary. You can do that by thoroughly washing away germs and bacteria with liquid dishwashing soap and warm water."

Check out our blog post here for all the important sterilizing and disinfecting information!
How long can I store my milk in the chiller?
Ceres Chill can safely store your milk for up to 24 hours. The Academy of Breastfeeding Medicine states that breastmilk can be kept at 59* F for that amount of time, and the Chiller works to keep your milk at that temperature or less. After that, it's important to transfer your milk to an uninsulated container in the fridge to make sure that you're following the milk storage guidelines in terms of what temperature your milk should be kept at.
We don't recommend keeping your milk in the Chiller past the 24 hour mark unless it's an emergency and you don't have access to a fridge. If you absolutely need to use the Chiller for longer, be sure to refill the ice frequently and monitor the temperature of your milk.
Can I use a hands-free bra and double pump?
Yes! Ceres Chill assembles with all that you need to double pump with a hands-free bra. With each Ceres Chill, you get one lightweight 12-ounce Milk Chamber (it weighs less than an 8 oz capacity plastic bottle) that connects directly to your pump and another light 3-ounce capacity chamber which doubles as the Cup so you can easily pump both sides without bringing a ton of extra plastic in a cooler with you everywhere you go.
Do I need more than one chiller? How do I store 12–24 ounces?
Your Chiller is designed so that you only need one Chiller to carry all the breastmilk that you'll likely to produce in a 20-hour period.
Using the inner chamber for storing up to 12 ounces is super easy and just requires a few ice cubes in the outer chamber while you pump directly into the inner chamber (and upper cup if you are double pumping).
To DOUBLE your storage capacity, you will use the inner chamber for your ice (instead of putting ice in the bigger, outer chamber). Using this method, you can store up to
24 ounces
! You just need to remember to keep your hands clean if you touch the inner chamber and always set your inner chamber on a clean surface (the inside of your upturned up is perfect for this). You can pump directly into the outer chamber by reattaching the connector.
All of the parts lingo can be a little confusing but a quick look at our
User Guide
shows you all the easy storage method. Moms using the double capacity method add ice to the inner chamber after 10 hours to ensure safe chilling over very long or very hot days. Some moms also choose to freeze their inner chamber with 2/3 full of water overnight. Keep in mind that the inner chamber was designed to be lightweight enough for moms to pump into, so the stainless steel is a bit thinner on that part and distortion may occur. While it's not common if frozen with only 8oz and left uncapped, it is a risk.
CONVENIENCE OF TWO CHILLERS and a BOTTLE WARMER!
But sometimes you could really use the convenience of two chillers. For some moms, they want one Chiller to chill the milk and the other to store it. And it is always nice to have one to grab if the other is in the dishwasher! Not to mention - your Chiller is also a bottle warmer - mind blowing, we know!
That's why we have created
Warmer/Chiller Duo
- to give you two great Chillers for much less money! As a mama, you're juggling everything at once and may not even have time to wash you Chiller. Having two Chillers gives you even more flexibility!
What's the best way to store my milk if I am trying to build up a stash?
Finally! Ceres Chill offers a really great answer for moms that are struggling to ensure their milk is safely stored for months without buying a second freezer and going through mountains of disposable, overpriced plastic baggies. Check out
The Ceres Chill Milkstache
: Long-term breastmilk storage—a really beautiful, versatile solution without the mess, expense, trash and headache of a million plastic baggies.
Can I add warm milk to already chilled milk?
Recent research says yes! but we know where you're coming from with this question. There is a lot of conflicting and outdated information on the internet on this topic (and all parenting topics, really). Moms need to do what they feel is best for themselves and their babies, whether it is using a cooler with separate bottles, combining their milk in one Chiller or using one Chiller to chill and the other to store milk as needed.
Knowledge is power so we want to give you all the power we have. We are so excited to share the recent science and studies about the power of breastmilk and the benefits of pooling milk over the course of 24 hours on our page dedicated to this important area of research.
Check out the latest information here
.
Do I need to put my Chiller in the fridge or freezer for it to work?
Not at all! With just a few ice cubes and a tiny splash of water, the Chiller safely stores your milk on its own. It does not need to be placed in the fridge or freezer.
Please note that the outer chamber is an insulated container, which means that it will prevent external refrigeration. Without ice in the inner chamber, the outer chamber will essentially act like a thermos and keep cold liquids cold and hot liquids hot. For this reason, we do not recommend putting fresh milk in the outer chamber and putting it in the fridge. The chiller will not be able to effectively chill and store your milk that way. To get safe storage, be sure to use any of the methods outlined in our
User Guide.
How does pumping warm milk into a thermos cool it and keep it cold?
Ceres Chill has an amazingly engineered, patent-pending dual chamber system. The outer chamber holds the ice - just a few cubes and a bit of water in contact with the inner Milk Chamber is all you need. You then just pump directly into the 12 ounce inner Milk Chamber as needed throughout the day. Thermodynamic tests show milk being chilled down to 42 degrees in 4 hours or less and staying well within safe storage temps for 20+ hours in 68-72 room temperatures.
And we can't say it enough, if you love hard evidence of awesomeness like science, charts and consumer safety reports, we have all of that for you here.

How does it do all the things you say it does?
We get it, it can be hard to figure out the first time.Ceres Chill has a small number of parts that recombine to meet all your needs throughout the day — commuting, working, traveling, and having fun out in the world with or without the baby. Any caregiver can take Ceres Chill on an adventure!
In this little video, Terra shows you how it works.
Can I use the Chiller as a bottle warmer?
Yes! Your Ceres Chill is incredibly versatile and can be used to warm baby bottles on the go. Just put hot tap water in the outer chamber and seal it up as usual. Then when you are out and want to warm milk or formula, just pour the cold milk/formula into the empty inner chamber by unscrewing the cup and small cap. Close it all up. Wait 4-6 minutes and then pour the warmed contents into your favorite baby bottles. Rinse out and repeat for up to 3 bottles in 10 hours.
Can I use the Chiller with formula?
Yes! Absolutely! Your Chiller is an excellent way to safely transport chilled formula or warm a bottle of formula for your baby while you're on-the-go.
How many ounces does Ceres Chill hold?
12–34 ounces! Ceres Chill can chill and safely store 12 ounces for over 20 hours, 24 ounces for more than 12 hours and 34 ounces of already chilled milk or forumla for 10 hours.
No more messy, sticky blowouts while pumping or trying to switch bottles that are too small mid-pumping. Consulting with pumping mammas and lactation consultants, 12 ounces is the ideal capacity to safely store milk for a normal work day or cross-country flight. Most moms pump 5–10 ounces in a workday so we wanted to make sure we had you covered while keeping the Chiller lean, light and easy to grab, stow in a bag, or tuck in a large cupholder. However, if a woman has an extra long shift, flight delay or other unforeseen emergency, Ceres Chill can be used to chill and store up 24 ounces for over 12 hours and if you need more time, just add a bit of ice!

Special ways to use Ceres Chill to store up to 34 ounces of milk

Does Ceres Chill offer discounts?
Yes! We love honoring our hardworking mamas and hero families with 20% of all their orders, always. Get your discount at checkout with GovX or register here to receive a well-deserved discount if you're a healthcare worker, essential worker, first responder, or military servicemember/spouse.
If you don't qualify for our Essential Worker Discount, don't worry! There are lots of others at different times throughout the year. Sign up for the Ceres Club at the bottom of this page and follow us on Instagram, TikTok or Facebook to get updates on exclusive discounts throughout the year. We're always thinking about you, coming up with amazing deals and awesome free gifts so we can better help you get through your breastfeeding journey with less stress and more style.
How about airport security screening?
We have taken all TSA and government office protocols into consideration with this design. Using an open water chamber and a separate breastmilk reservoir that can be easily and cleanly tested without compromising your milk, Ceres Chill moms will skate through security as smoothly as any of us ever did...which is not to say that TSA is easy, just that Ceres Chill and your breastmilk won't make it harder than it needs to be.
For more information on traveling with your chiller, check out our blog post here!

I'm having trouble using the Chiller. Is it working as expected?
If there's something that seems hard when you use your Ceres Chill, maybe one of the solutions to some other mama's problems will get things on track: Troubleshooting
Does Ceres Chill come with a pump?
Ceres Chill does not come with a pump but it is compatible with all major pumps (natively compatible with Medela and similar brands and with an adapter for wide bottle neck brands like Spectra or Lansinoh). This allows you to choose the pump that is best for you and be able to pump directly into Ceres Chill, knowing that your milk is safely stored with not added risk of contamination that other storage systems have when using multiple containers and chilling mechanisms.
What about returns and refunds?
Besides accepting returns if you're not 100% happy with your purchase, Ceres Chill offers a Lifetime Warranty on all of the products we make — we design them to last and be useful to you even after your breastfeeding days are over. Details about warranty replacements and returns