Hi!
I'm Lisa Myers, the inventor of Ceres Chill.
Briefly, here's how I came to invent this cooling breastmilk storage system for breastfeeding moms (There's a
longer version
). Over the course of a few short years I —
Became a mother
Was promoted as a lawyer and had a second kid
Returned to work and took on more (!) work travel
Endured universal breastfeeding challenges, and looked for ways to make work/life/pumping more manageable, coming up empty-handed or disappointed with bulky, tell-tale milk storage options
Had one of those serious "Aha" moments and swung into action
Worked with a team of with brilliant lactation consultants, moms, caregivers, engineers, IP attorneys and industry leaders to create and perfect this Chiller for pumping moms' needs
Filed our patent and began working to ensure this beautiful, compact, convenient breastmilk cooling system makes it to market
Launched a successful Indiegogo campaign—We were fully funded on Day One!
Sold out of our first manufacturing run!
In June, began shipping new orders to nurses, doctors, exclusively pumping moms, mail carriers, soldiers, community leaders, premie mamas...all kinds of heroic women all over the world.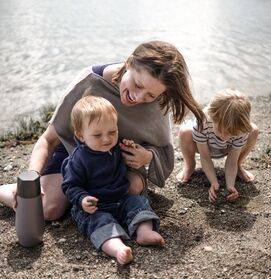 Farm girl, big-city lawyer, mom
Born in Canada, Lisa spent her childhood on a 200-acre hay and cattle farm outside Spokane, Washington, where she and her brother helped out with harvesting crops, caring for the animals and other seasonal work.
Several years later, Lisa was all grown up and running political campaigns in New Jersey and serving as an assistant district attorney in Philadelphia.
Lisa got married, started a family and works for an international law firm. Like almost every mom Lisa knows, she found breastfeeding incredibly difficult for a million reasons. For Lisa, these included working in a male-dominated sector, some long work days and travel away from her son.
Free the moms, save the milk!
Lisa Myers realized she had no way to keep her milk safely stored without awkward walks down the office hall, juggling obvious bottles of breastmilk and pump parts.And she needed a new way to travel for work: A big ol' cooler, bottles, and ice packs simply did not fit in her big bag already full of mediation binders, exhibits, a suit, computer, and...the pump.
A typical work trip saw Lisa having to dispose of 13.5 ounces of precious breastmilk at the airport.​ Moms are incredible problem-solvers. It's what they do. Lisa quickly hit the point where she was convinced that "I can do better for me and I can do better for my kids."
Her market research turned up nothing that could meet a mom's basic travel, working, and pumping needs. She got down to work inventing a solution to solve the problem simply, elegantly, and affordably. She was soon able to file for a patent and begin working with an amazing team to make Ceres Chill available to any mom in search of a better way to achieve their breastfeeding goals while continuing to be a great professional success.