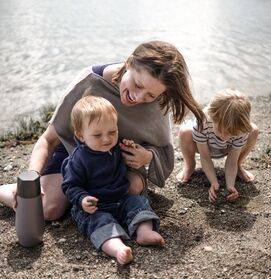 Farm girl, big-city lawyer, mom
Born in Canada, Lisa spent her childhood on a 200-acre hay and cattle farm outside Spokane, Washington, where she and her brother helped out with harvesting crops, caring for the animals and other seasonal work.
Several years later, Lisa was all grown up and running political campaigns in New Jersey and serving as an assistant district attorney in Philadelphia.
Lisa got married, started a family and worked for year for an international law firm. Like almost every mom Lisa knows, she found breastfeeding incredibly difficult for a million reasons. For Lisa, these included working in a male-dominated sector, some long work days and travel away from her son.
Free the moms, save the milk!
Lisa Myers realized she had no way to keep her milk safely stored without awkward walks down the office hall, juggling obvious bottles of breastmilk and pump parts.And she needed a new way to travel for work: A big ol' cooler, bottles, and ice packs simply did not fit in her big bag already full of mediation binders, exhibits, a suit, computer, and...the pump.
A typical work trip saw Lisa having to dispose of 13.5 ounces of precious breastmilk at the airport.​ Moms are incredible problem-solvers. It's what they do. Lisa quickly hit the point where she was convinced that "I can do better for me and I can do better for my kids."
Her market research turned up nothing that could meet a mom's basic travel, working, and pumping needs. She got down to work inventing a solution to solve the problem simply, elegantly, and affordably. She was soon able to file for a patent and begin working with an amazing team to make Ceres Chill available to any mom in search of a better way to achieve their breastfeeding goals while continuing to be a great professional success.

That's all history now! Her solution, the Ceres Chiller, has become the gold standard for modern breastmilk storage that people love because it's a game-changer! And the Chiller is just part of the growing Ceres Chill collection of products we're so proud to bring you!
Hi!
I'm Lisa Myers, the inventor of Ceres Chill.
If you want to learn more about how I came to invent this cooling breastmilk storage system for breastfeeding moms (There's a
longer version
). I'm so proud to be working in support of hero moms and families everywhere, bringing science to the table. I maintain, along with some stellar staff and guest writers, a blog you may want to check out for relevant topics and epic reviews. Enjoy!