"A hydroflask, but for breastmilk"
We are delighted to bring you this amazing blog post from Elyse Moody at New York Magazine's Strategist. She tagged it with "This Thing's Incredible!" and wraps up with the magic words I most hoped to hear from customers when I invented Ceres Chill: "Pumping will never feel convenient, exactly, but now it's much, much better."

This Insulated Bottle Is Like a Hydroflask, But for Breast Milk
By Elyse Moody on March 14, 2023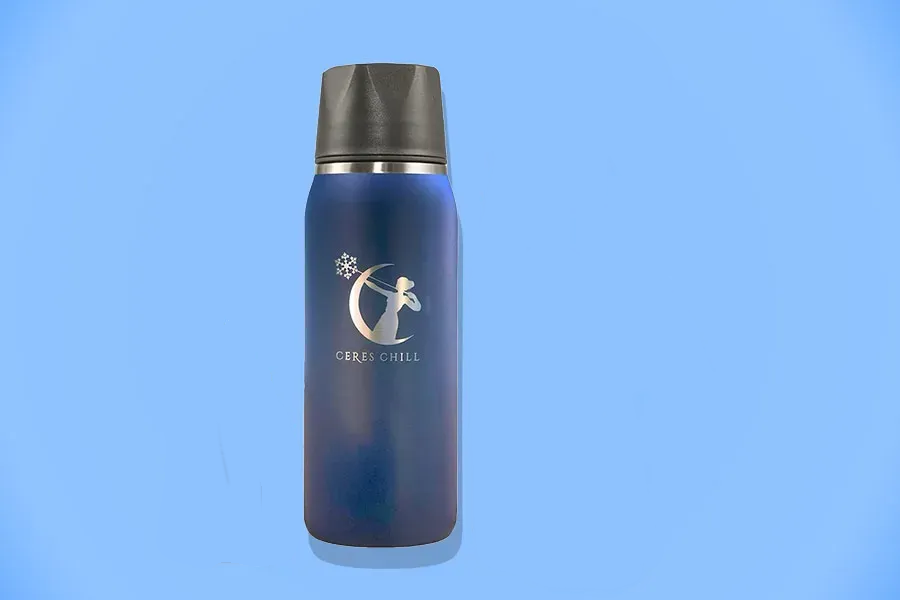 Photo-Illustration: The Strategist
For nearly a year since giving birth to my daughter, I've hooked myself up to a breast pump seven or eight times a day and waited for 30 minutes while it emptied my boobs of milk. (For reasons I won't get into here, it works best for me to pump one side at a time.) I have to keep up this routine no matter what else I'm doing or it hurts. A lot. I've pumped while on deadline for a story. I've pumped while my husband drives us on the Garden State Parkway. I've pumped in the basement bathroom at ABC Carpet & Home. (Fellow moms, it's clean and empty there.) I've pumped on a Delta flight to Ireland. I've pumped outside Gaston's Pub at Disney World while my 6-month-old slept in the stroller.
On all my jaunts, I hauled around what I started to think of as the feeding backpack, stuffed to the brim with my kettlebell-size breast pump, its charger, a gallon-size zip-top plastic full of pump accoutrements, sanitizing wipes, and baby bottles. This in addition to the diaper bag with diapers, wipes, extra clothes, and a toy or two. It's doable, but I've found that the more stuff you need to bring, the greater the chance you'll forget something that's actually essential. And perhaps the most challenging part of pumping outside the house is figuring out how to store the milk when it's not getting fed immediately to my daughter.
It seems like a problem organization could solve — and as a former Martha Stewart home editor, I've been somewhat obsessed with finding the solution. At first, I stored the milk in the containers that came with my breast pump, but after a few weeks they were too small. I tried pumping into those bottles then emptying them into larger reusable silicone bags for longer term storage, but dirtying four containers at every pumping session frustrated me. Other times, I poured the milk into clean baby bottles, thinking I could eliminate a step and a dirty dish. None of these methods have worked seamlessly, even at home; I still go back and forth depending on what's clean and sterilized. When I'm commuting, traveling, or even just running errands, it's even harder because space is limited and spills can be a real buzzkill.
But then, after the Disney World vacation, I saw a message on my local moms' Facebook group asking to borrow a Ceres Chill from someone to take on a trip — the original poster didn't want to shell out $70 before trying it to see if it was worth it. The comments section yielded a couple offers and ringing endorsements. I Googled it, and within an hour, one was on its way to me.
The Ceres Chill looks like one of those big, old-school camping Thermoses with the top you can use as a mug for the hot coffee or soup inside. It's insulated, so it can also keep cold liquids cold. But what's unique about the Ceres Chill is that it can actively chill warm liquids. It has an inner chamber, which is uninsulated stainless steel and screws securely into the outer vessel. You can fill one of its chambers with ice and water to chill as much as 24 ounces of breast milk for 20-plus hours, essentially eliminating the need for a refrigerator or cooler. The Ceres Chill is also designed to connect directly to breast-pump parts, so it streamlines the number of pieces you need to carry around. You can also use it as a baby bottle or a bottle warmer. As far as I can tell (and I've looked), there's nothing like it.
The Ceres Chill website has an excellent illustrated guide that explains this in very user-friendly detail (even I could figure it out), so I won't get into the nitty-gritty here. What I will say is that it has five simple-to-clean pieces, and once you get the hang of how they screw together, they're straightforward to reconfigure to do whatever you need it to do.
The best use case for me is for a full day out and about with my daughter. We took her back to Disney World when she was 8 months old (yes, we're insane). Before we headed out in the morning, I pumped 12 ounces of milk into it and added ice and water to the outer chamber to keep it cool — voila, her ten-o'clock bottle (and then some) was ready. At ten, I poured six ounces out into a separate bottle for my husband to feed her, then I pumped into the Ceres Chill to top it up for my daughter's next bottle, and I didn't have to wash or sanitize or tote any extra storage containers or bring a cooler. I had just the one compact container to clean when we returned to our hotel.
The Ceres Chill pretty much eliminates spills, too. There's an outer cup and an inner cap. The cup serves several purposes. You can pump into it or use it as a baby bottle, and it's a backup top that screws on tightly. I love having two layers of defense. I don't even put my Ceres Chill inside an extra-large zip-top plastic bag as a backup (the way I do pretty much everything else). I'm that confident it won't spill.
When I head out now, all I pack is the Ceres Chill, the pump, and the pump parts. It's still a lot, but with a small enough pump, all of this can fit in a diaper bag. Pumping will never feel convenient, exactly, but now it's much, much better.