Pumping at Disney World? We got you!
By Madison Shortle, guest writer and epic mom/Disney Crew Member. Additional park information contributed by Ceres Chill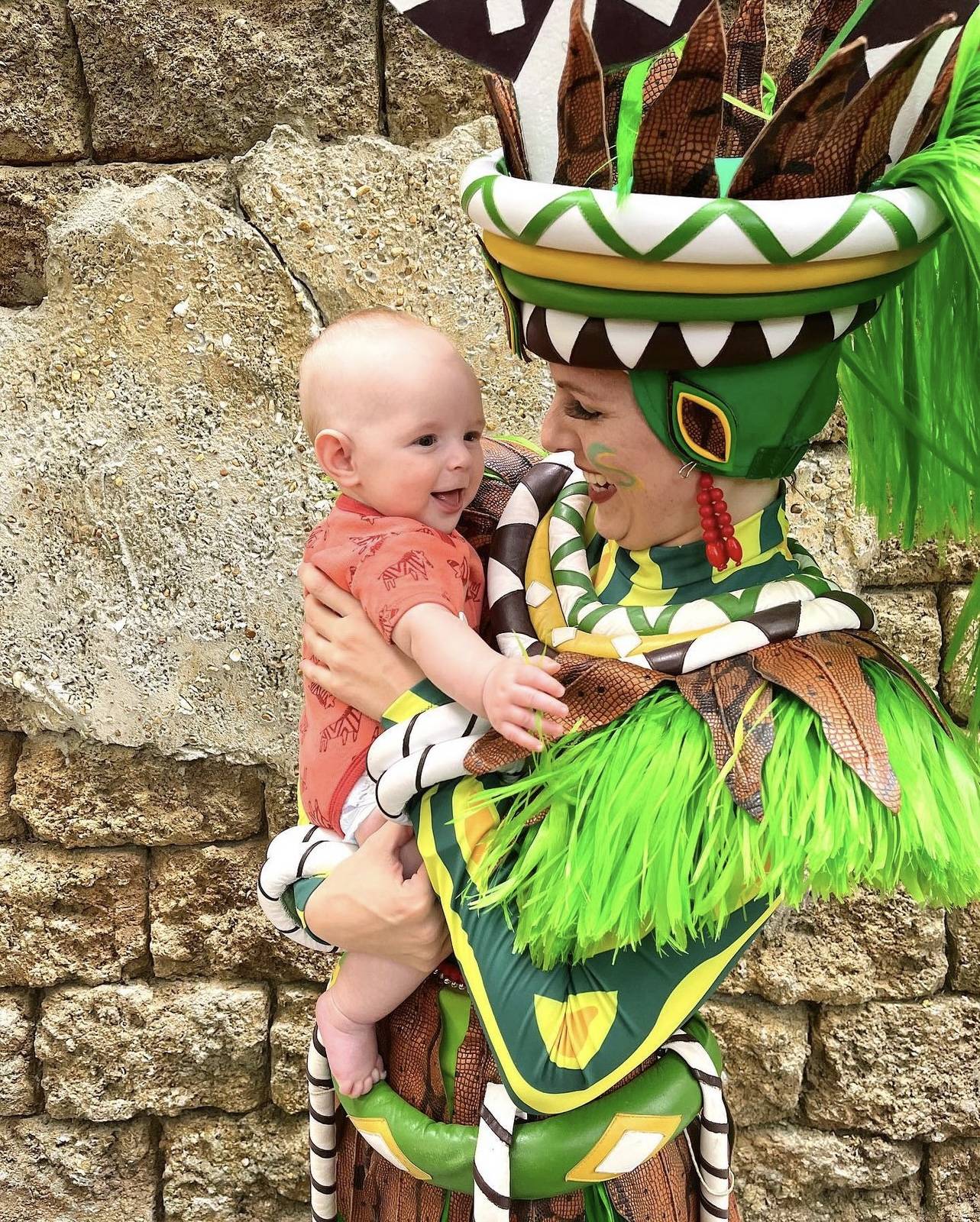 Are you nervous about the logistics of pumping at the most magical place on earth? Don't be — it's perfectly legal and acceptable to pump at Disney, and the parks are actually pretty breastfeeding- and pumping-friendly! It's completely normal to feel nervous or overwhelmed about the thought of pumping in an unfamiliar environment, but with the right knowledge and plan, you can make yourself more comfortable.
Let's start off with location — Where can you pump?

To put it simply … anywhere! If you needed proof, check out this amazing video from Bri of Breezy Babies showing all the places she breastfed while at Disney!

If you're comfortable with it, you can breastfeed or pump quite openly while standing in line for a ride, resting in an enchanted garden or strolling through any of the parks. You don't have to be covered, but you can absolutely bring a wrap or scarf with you if that makes you feel more at ease. Disney also has four Baby Care Centers (one in each park) with designated nursing and pumping areas if you'd prefer to have more privacy. Here's what Disney says that they offer:
Private nursing room with rocking chairs (plugs for pumps are available, but fridges are not)
Changing room with tables
Family friendly restroom facilities
Feeding area with highchairs
Kitchen with microwave and sink
Main room with television, table and seating
On-site shop offering formula, baby food, juice, diapers, wipes, sunscreen, over-the-counter medications and clothing for purchase
Access to the centers is free of cost with your ticket — to find the locations of all of the centers, check out the Disney Baby Care Center page! Maps to each center are available at all of the parks.
Now that you know where to go, what should you bring with you?
Here are some of the essentials for pumping on the go in general, but they'll be extra handy during a full day at Disney!
Pump bag or backpack
Pump of your choice (I prefer a wearable pump, but you can choose to bring a manual or electric breast pump)
A storage option (I recommend the Chiller, *obviously ;)*, but you can also bring a small cooler and ice packs with bags or bottles if you choose to do so!
Cleaning wipes, sprays or a portable washbasin to clean your pump between uses
And some optional goodies that might make things a little bit easier:
A portable battery if you have one (save yourself the trouble of finding an outlet)

A hands free pump bra

A wet/dry bag for pump parts (you can also use a ziploc bag)
And that's it! Disney is extremely family-friendly, and you'll have no trouble finding cast members to help or separate areas to pump or nurse. For all the other helpful information, check out Disney's Guest Service page!

You got this! Check out Ceres Chill Mom Pat's awesome video about pumping at Disney✨
You've dreamed of the first time you take your little one to experience the magic of a theme park like Disney! You planned out your tickets, resort stay, and have a list of rides and attractions that would suit the new addition to your family. But once you get to the park, how do you handle pumping and storing milk while experiencing the Floridian heat?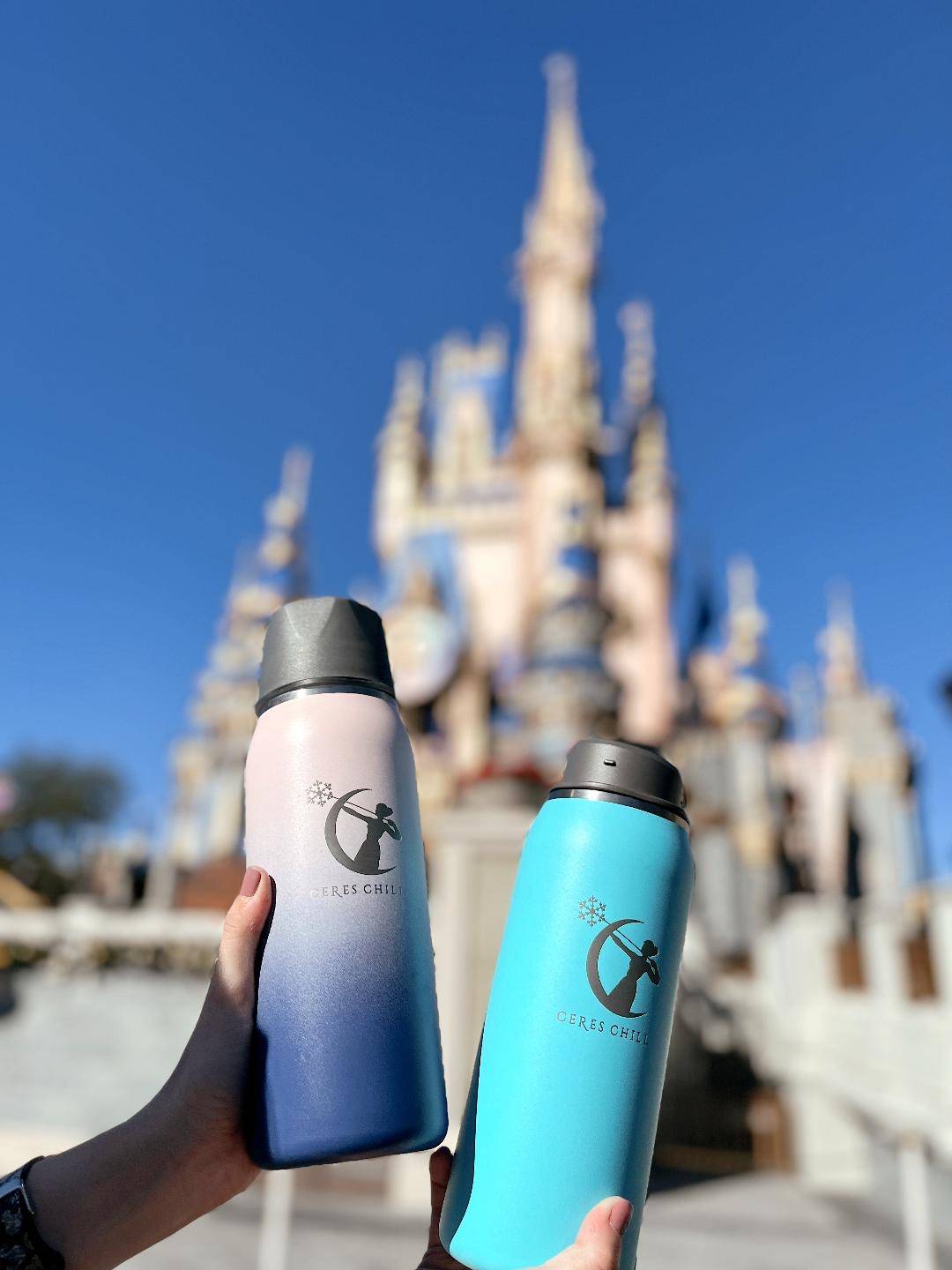 Mombre and Sky's The Limit Blue matching the castle!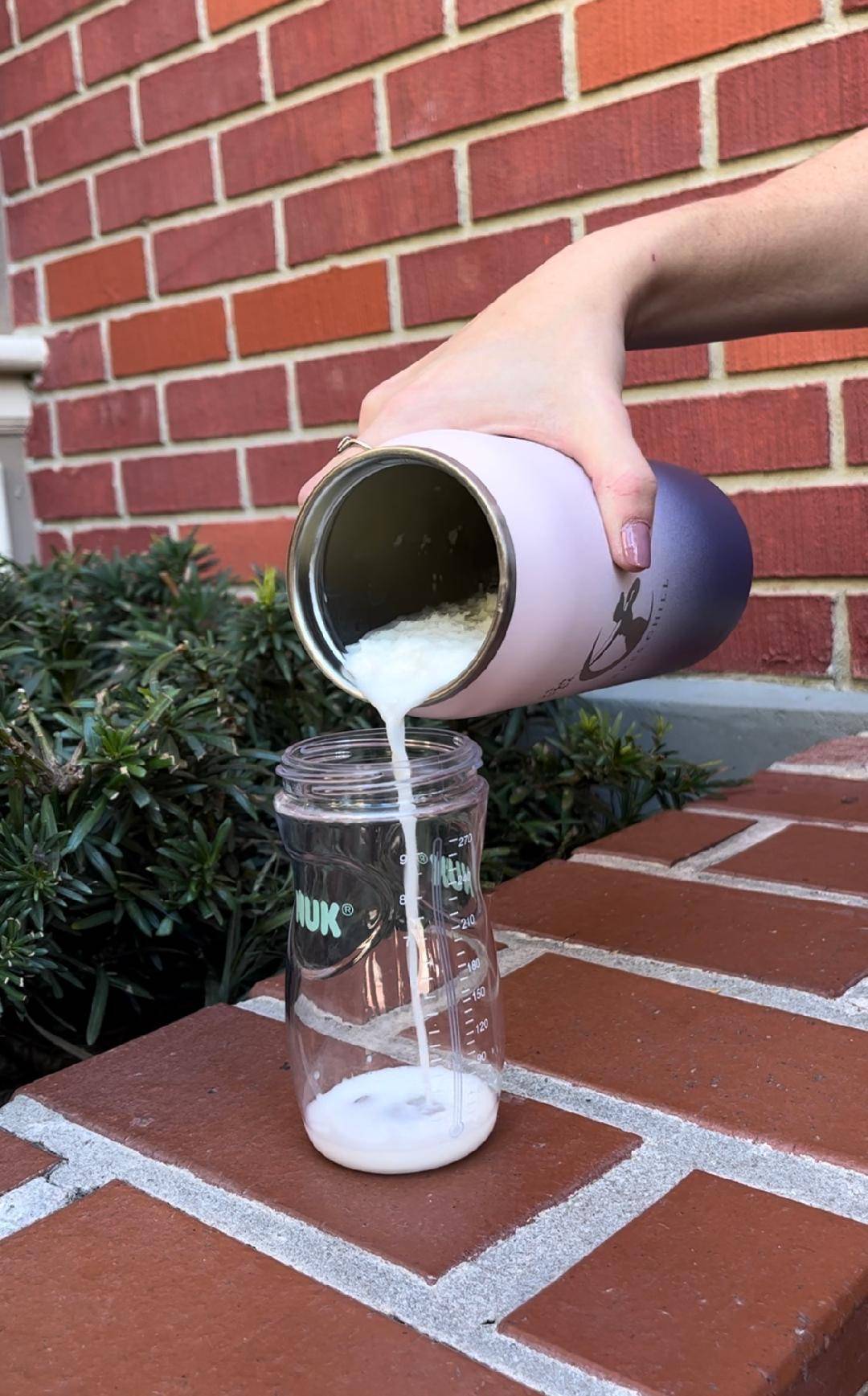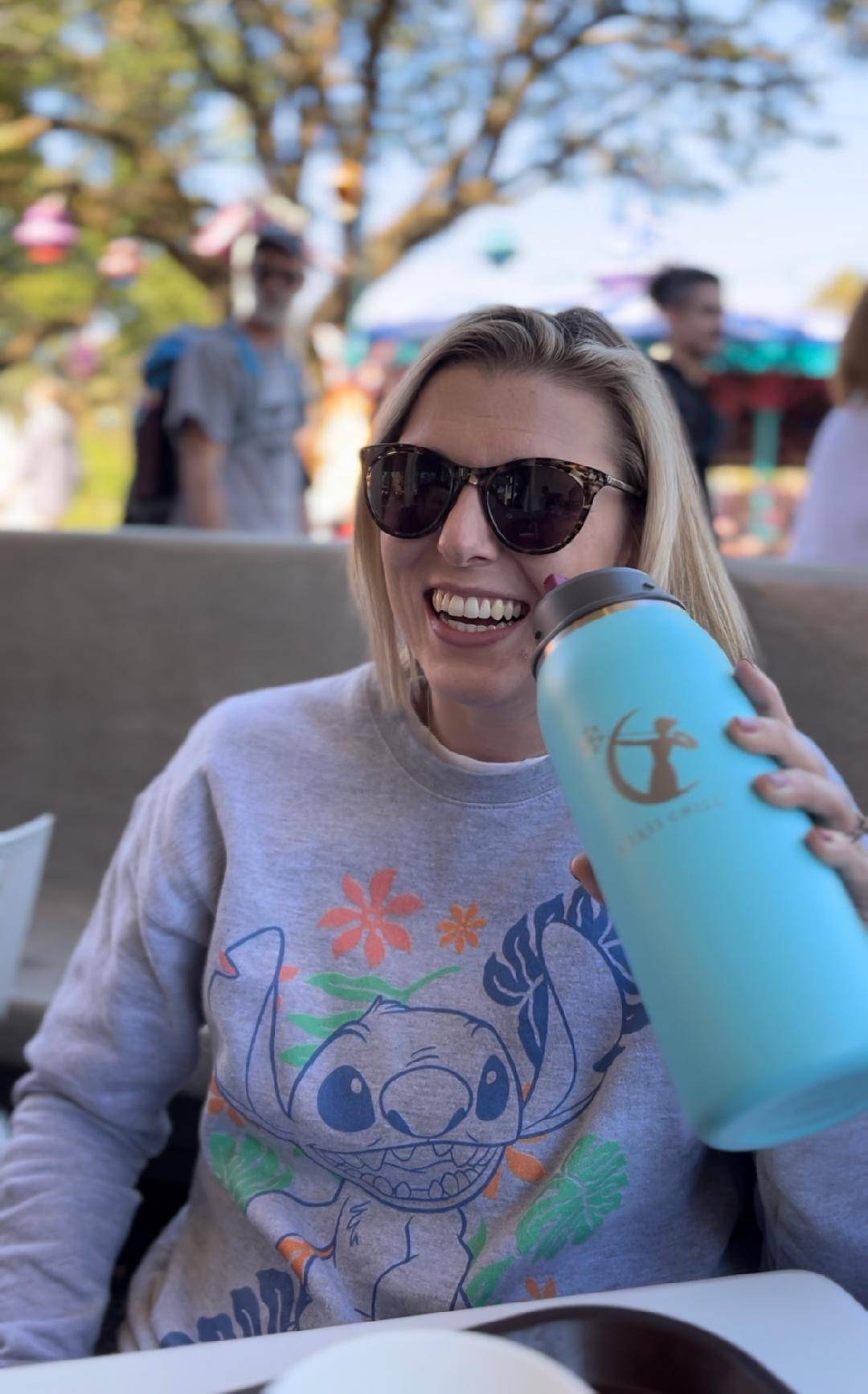 Baby napping + french fries + cold water = happy mama
My son was born a year ago and I've made 10+ visits to the Disney parks with him. And every time I brought my Ceres Chill products to the parks with me. I stopped pumping right after New Year's … and I'm still bringing the Chiller and accessories in my diaper bag.
This morning, we woke up around 7 to get ready for a day at Magic Kingdom. I prepped my Chiller with an inner chamber that I had frozen overnight and emptied two freezer bags of milk into the outer chamber. My son is still drinking breastmilk until our stash gets low, so I needed to keep the milk protected while I was out.
I put the Chiller in our diaper bag and off we went. No extra bags or bulk of coolers with ice packs or storage bottles.
We had breakfast at one of the resorts, taking us to almost 11 before we were actually in the Magic Kingdom theme park. I walked through security with ease. I felt ready to tackle a busy day knowing I was prepped with what I needed to keep my breastmilk at the appropriate temperatures.
Our first stop of the day was to get my son's first haircut at the Barbershop on Main Street. I left our diaper bag in the stroller outside of the building. I peeked through the window and our bag was DIRECTLY in the sun. It sat in the stroller for roughly 30 minutes basking in the heat.
Around noon, I poured some milk from the chiller. Since I had emptied freezer bag earlier, the milk was still a little slushy when I first put it in the chiller. It was STILL slushy five hours after being put into the Chiller and after sitting in the Florida sun.
When I was still actively pumping, I would wear my Elvie Stride and still be able to enjoy my day. I would pump while we sat down for lunch or waited out a ride with my little one while the adults and big kids in my group went on rides with minimum height requirements. I would tilt the inner chamber at an angle to cool off the milk being added to the outer chamber, wash out my pump parts at the Baby Care Center or use pump wipes, and continue on with my day.
I not only brought a Chiller for my son's milk, but I brought my second Chiller for myself. Using the Happily Ever After bundle, I was able to keep myself hydrated with ice cold water. The straw lid makes it easy to sip while you stroll and kept ice in it all day. It just goes to show that this product was made for every stage of being a mom. It's not just for milk, it's for Mama, too.
I first found and purchased Ceres Chill products to be able to have an easy transition back to work. When I'm not playing in the Orlando theme parks, I'm working in them! I wanted something that would give me the ease of knowing I didn't have to use communal break room fridges to store my liquid gold. I had no idea how much this brand would be a game changer for me. If you are traveling and spending long hours making precious memories with your family, invest in this lifelong, versatile, peace-of-mind bottle of perfection.
My one year old is able to use the Ceres bundle, too! He used the inner chamber with the rubber grip and the sipper top so he could also keep hydrated. You can ask for a cup of ice water at any quick service dining location while at Disney, so there's no need to bring along plastic water bottles or extra sippy cups! As he gets older, I can use the cup on the top of the Chiller to hold snacks to appease toddler hunger. Everyone in the family can benefit from Ceres Chill!
Disney has Baby Care Centers in each of the parks. This location provides bottle warmers, sells diapers and baby supplies in the event of a forgotten item, and has nursing rooms and changing tables. I've used the Center quite a few times. When I have had longer days in the park and only need to heat up one bottle at a time, I've had to make sure I find my way back to the Baby Care Center location to properly warm up his bottle. However, the Chiller doubles as a portable bottle warmer. Towards the end of the day, when I know there's just enough for his last bottle, I can use warm water to heat his milk without trekking back through the park to find a warmer. Simply swap out the cold water and ice for warm water, swirl it around, and you've got a warm bottle and a happy baby.
Theme park vacations are usually filled with long days. Lots of walking, hopping to different parks throughout the day, getting there early and staying until fireworks. There are a lot of factors that go into making your vacation as perfect as can be. With Ceres by your side, the stressors of milk storage melt away like a snowman in summer (don't tell Olaf). Ceres Chill products are a sprinkle of pixie dust for moms and their kids throughout the hustle and bustle of a busy Disney day. If you are planning any sort of trip with your newest travel buddy, add Ceres Chill to your packing list to find your happily milky after.
Being a working mom has been SO tough but performing is such a big part of who I am as a person that I'm trying to balance both to make myself a better mom.
I cherished my pumping journey and my chillers made the experience that much better because of the convenience. I am thankful that I'm still giving my son breastmilk that I pumped while working. Bringing joy to audiences and milk home to my baby makes me a happy mama. ❤️
I've been dancing and performing my entire life. I am so fortunate to be able to base my career around my passions. But when it was time for me to return to work after the three months of maternity leave, I had NO idea how I was going to manage. Being away from my son 6 to 7 days each week while balancing multiple jobs was hard enough and to throw pumping in the mix… I was overwhelmed with emotions and questions.
Before my son, I scarcely took days off of work. My schedule was constant and my day planner was my best friend to be sure everything was balanced and I wasn't double booked. My husband and I would take a vacation or two each year, but we both were (and maybe still are) workaholics. Add a baby into the mix and the whole dynamic changes.
The thought of losing that part of me was hard. I didn't want to give up performing at my fun job, but the new job title of "mom" was pretty amazing, too. I feel like so many of us as new moms experience the identity crisis of not wanting to change what we love about our pre-baby life but adoring the moments we get with our precious children.
I thought "my entire LIFE has been dedicated to dancing and the joy I feel while performing is boundless. My son is now my whole world - is there enough of me to go around?" AND pump at least 4 to 5 times a day?! I understood why so many working moms have a hard time keeping their supply up.
I learned how to juggle both. Is it difficult some days? Absolutely. Is it rewarding to see his little face light up when he gets to come watch me dance? That feeling is better than I could've imagined.
I had already toyed with the idea of exclusively pumping before returning to work because of my oversupply. He would get an upset stomach from the amount he would take in so quickly and with being back at work, he was using bottles for 90% of the day anyway. I made the decision and never looked back.
My goal was to make it to one year — and I did it. I never thought it would've been possible with my work schedule. I pumped between performances while I touched up makeup and ate lunch. I pumped on planning breaks while teaching at school, multitasking with grading and emails. In the car, at the zoo, at Disney countless times … the list is endless.
I used my Ceres Chill products to facilitate my experience and take some of the stress away from pumping. I could toss my chiller in my work bag and didn't have to leave the dressing room when storing my milk. When I left for the day, I never forgot my milk in the communal fridge overnight because it was always with me.
I could store milk from the session I pumped on the way to work from dropping my son off if I wanted an extra few minutes of sleep and didn't pump before he woke up. I took my milk from the day with me when we went out after work to spend time with friends and feel more like my old self again, just with a new little friend in tow. Ceres made it so easy.
Everyone's journey is different but a mother's love is always poured into the choices we make. From one mom to another, I'm proud of you and the decisions you make to benefit not only your baby, but yourself. Keep going. We are so strong.